Fandom:
Bleach
Character:
Zaraki Kenpachi
Theme:
Gamma
Icons Total:
17 of 100
Teasers:
Crossposted at:
Theme set: Alpha
Theme(s): 9 (A Misunderstanding), 18 (So Far Away) + 2 Artist's choice
New icons: 3 (+1 redone)
Total: 79/100
( Bang bang. )
Character: Badou Nails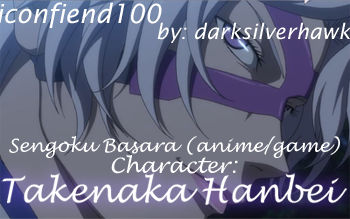 Character: Takenaka Hanbei, Sengoku Basara
Theme set: Delta
Theme(s): prologue, scream, touched, stay, gravity, a vision, promise, two for tragedy, wanderlust, at the bottom of everything, clocks, daylight, warning sign, shine, listen, razorblade kiss, one last time, we may as well be strangers, can't stop now, midnight show, 3 AC
# of icons in post: 25
# of icons completed total:25/100
Credit policy: Credit is nice but not required, full credit details@journal.
Preview:


( ~Fake cut to journal~ )


If any of you submitted a claim, please go ahead and post your icons. I am going to make an addendum to the rules so that everything is open. This also means that there will be no banners either. Sorry guys, but I was never the artistic one of the mods and I honestly don't have the time to try to do anything that would look halfway decent.

So, go ahead and post your icons. I miss seeing all of the awesome creativity that this place used to showcase.

Let me know if you have any questions. (And please try to remember to tag your icons. It really does help).
Hello to everyone out there who has been faithfully requesting claims for the past.. I don't know how many years. I am very sorry to all of you for the response, or lack thereof, that you have received. We moderators all went into the major idle of RL long ago.


Feel free to erase this, I'm just trying to provoke some activity XD
I want to start! I see claims from 2011, other people want to start too! -hops up and down-
Theme set: Alpha
Theme(s): 25 (Honor) + 3 Artist's choice
New icons: 4
Total: 76/100


( Head here. )
Character: Badou Nails
Series:
Lingerie Soldier Papillon Rose/Papillon Rose New Season (General)
Theme Set:
Alpha
Themes in This Post:
31, 33, 34, 35, 39 & 42
Number of Icons in Post:
6
Number of Icons Completed:
100/100
Click for the icons...
*Blows dust off community* Eh er... anyone home?
Series:
Jyu-Oh-Sei/Planet of the Beast King (General)
Theme set:
Alpha
Themes:
12, 13, 18, 32 + 2 Artist's choice
# of icons in this post:
6
# of icons completed:
12/100
Credits:
here

to the land of the beasts
Please credit
sairaiyle if taking. Comments = ♥
No hotlinking, please
Artist:
seisupiakaisa
Pairing/Character:
Seishirou x Subaru [X/1999]
Theme set:
Alpha
# of icons in post:
3 [33, 36, 49]
# of icons completed total:
35/100
Teasers:


More here